Green Key
We are proud to be certified with the Golden Green Key Certificate. With this, the two hotels under this brand (Flonk Hotel Groningen Centre and Flonk Hotel Groningen Zuid) meet the highest requirements of the hallmark. This places them among the top inspected companies in the Netherlands.
With this Golden Green Key, both hotels want to show guests, governments and business relations that sustainable business plays a central role within the organization. This means that we go a step further in consciously dealing with nature and the environment than normal laws and regulations require. We make every effort to minimize the pressure of our business on nature and the environment.
What exactly do we do? An overview of measures we have taken in the area of sustainability and CSR:
Charities
We collect toners, cartridges and old phones for CliniClowns Foundation Netherlands.
Food and drink
We work with as few monopacks as possible. Our assortment includes a large number of organic products, which you can use – if desired – to create a complete organic menu.
Energy and water
Halls and corridors are equipped with energy-saving bulbs and LED lighting. We bottle spring water. We instruct staff to use energy sparingly (turn off air conditioners, lights and heaters in halls and rooms that are not in use). We have taken anti-draught measures by installing door closers and by automatically opening and closing
doors. Finally, we have taken water-saving measures at faucets, showers and toilets.
Waste separation and cleaning
Microfiber wipes are used when cleaning the hotel rooms and public areas; the public restrooms are equipped with soap dispensers;
Only ecological cleaning products are used in cleaning. These products carry various environmental labels;
All hotel rooms are equipped with soap dispensers instead of disposable containers.
Instructions for reusing towels can be found in the hotel rooms.
For paper, glass, AGF and residual waste are separated;
In cooperation with ReFood, renewable energy in the form of electricity and heat, organic fertilizers for agriculture and raw materials for the production of biodiesel are extracted from food scraps, food waste and kitchen waste/swill.
Paper
We use FSC and ECF certified paper and printing. We print double-sided and send requested documentation digitally whenever possible. We print invoices only upon request. Waste paper is recycled.
Transportation
Both hotels are easily accessible by public transportation. We encourage its use. Bicycle rental is available. The hotel has its own charging stations for electric bicycles and electric cars (for cars only at Flonk Hotel Groningen Zuid).
Renovations and renewals
In all renovations and renewals, we look for methods and materials that minimize environmental impact. For replacement investments, our preference is for energy-efficient equipment.
Your contribution
After an overnight stay at Flonk Hotel Groningen Zuid or Flonk Hotel Groningen Centre, you will not only be able to start a new working day fit and refreshed, but you will also have unwittingly contributed to the preservation of nature and the environment! We take our responsibility towards nature and the environment without you having to compromise on comfort.
Want more information about Green Key? www.greenkey.nl
The future
Green Key is part of the Foundation for Environmental Education FEE. This is a global organization with members in more than 60 countries. At www.fee-international.org you can read all about the idealistic goals of this organization: care for and awareness of nature, environment and sustainability. So that future generations can also enjoy our beautiful earth.
Sign up as a Flonk Friend and receive
€7.50 discount
Thank you for signing up. Use code
FLONKFRIEND

when booking.
Cancellation free of charge until 6 p.m. on day of arrival
Free room upgrade when possible
€2 discount on breakfast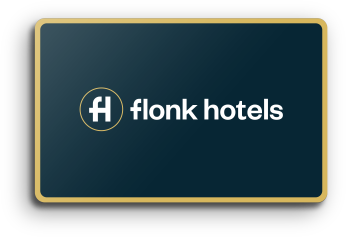 Discount
on your stay?
Subscribe to our newsletter and receive €7.50 discount.
Receive discount