Corporate
Are you looking for a venue for your business meetings, conventions, meetings, receptions and/or trainings or an overnight stay? Conference and meeting specialist Flonk Hotel Groningen Zuid offers every possibility for this. You can read all about it on our special meeting website.
In addition to complete care of your meetings, conventions and other gatherings, you can also enjoy an overnight stay in one of our renovated hotel rooms. Our 3-star hotel has 131 hotel rooms, consisting of Twin, Comfort Deluxe and Comfort Top View rooms with a beautiful view over the adjacent nature reserve.
Do you plan to stay with us more often? Then contact us for a price agreement and special conditions. To do so, please contact Suzanne de Bruin, Sales Manager, at suzanne@flonkhotels.nl or 06 2224 9074. You are most welcome!
The place for business events, meetings & parties
The location Flonk Hotel Groningen Zuid is a perfect place for events; with 11 meeting rooms, an auditorium, and 2 large conference rooms. The restaurant Meerwold offers delicious catering for the events. In addition, the location is located on the beautiful Hoornsemeer nature reserve, making it an ideal place for participants to relax and enjoy nature. Guests can also park for free and there is the possibility of staying overnight. With free Wi-Fi, this location is perfect for business meetings and events.
11 meeting rooms

Auditorium

2 large conference rooms

Restaurant Meerwold

Bordering nature reserve Hoornsemeer

Free parking

Possibility of staying overnight

Free WiFi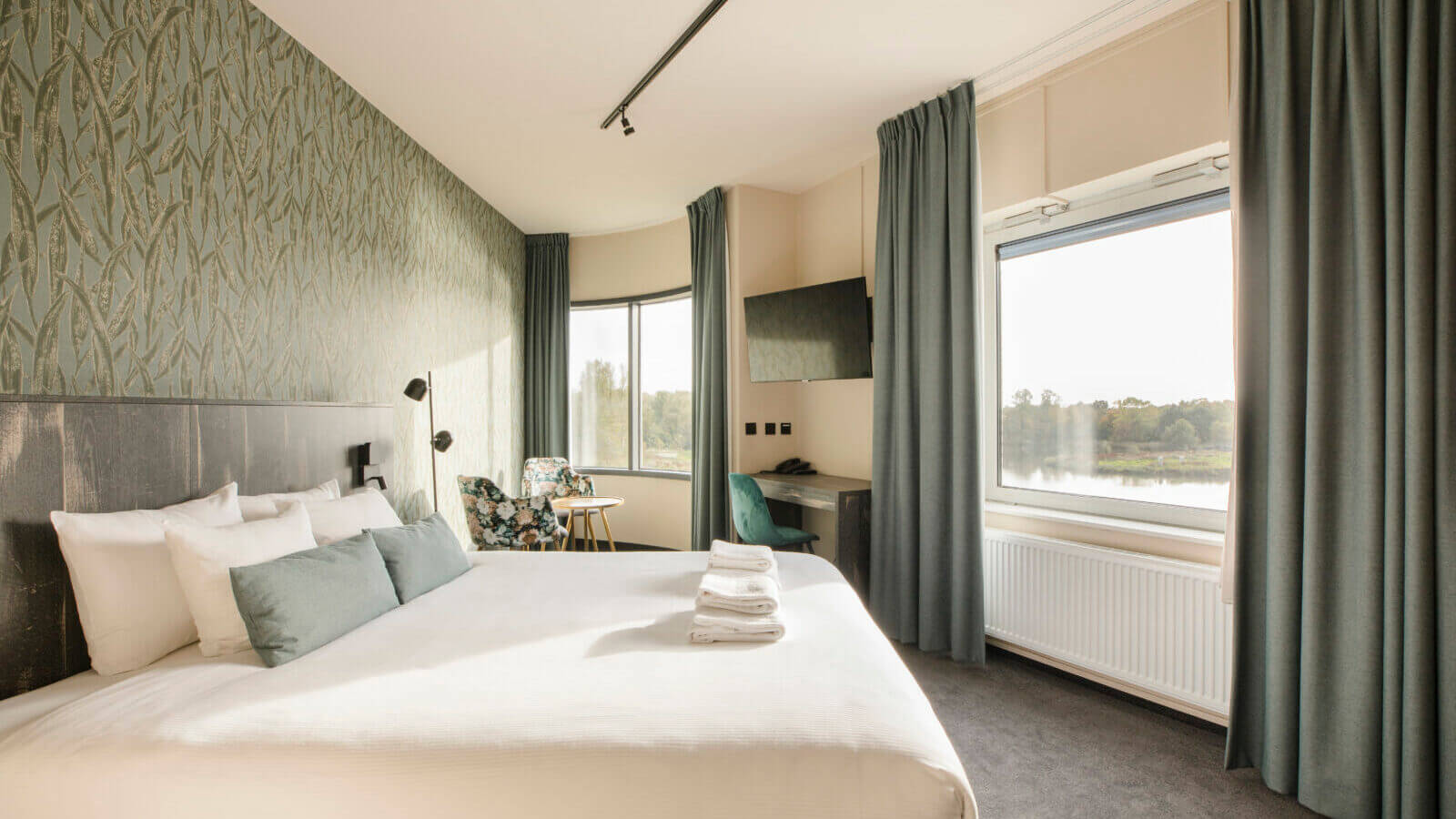 Spend the night after your meeting?
After your meeting, you can relax in the hotel's bar or lounge, enjoy a delicious dinner in the restaurant or take advantage of the pool to complete your day. After your overnight stay, enjoy a sumptuous breakfast buffet to start the day off right.
Book a room
Frequently Asked Questions
Is parking available at Flonk Hotels?
At Flonk Hotel Groningen South we understand that convenience and accessibility are essential for a relaxing stay. That is why we offer our guests free parking directly at the hotel. Our spacious car park is easily accessible and offers enough spaces, so you never have to worry about finding a parking space.
Charging points for electric cars are also available.
Why are you called Flonk now?
We are Flonk Hotels. Flonk is the Groningen word for lively. Exactly the value that suits us. It is the drive we use to make your stay or collaboration a success. From valet parking to renting a boat, your favorite food on the table to a meeting room decorated on your theme. Our own hotel concept that gives us the freedom to determine how we work. Being able to go that extra mile and surprise you. Suitable for you because we know you and know what makes you happy. A stay with a golden edge. That's what we're going for. That's what gives us energy. With Groningen sobriety we bring Flonk into your life.