Dear Guest,
We welcome you to Flonk Hotel Groningen South. It is our pleasure to make your stay as pleasant as possible. In this guest directory you will find the necessary information about our hotel. If you have any further questions, our staff will be happy to assist you.
On behalf of the staff, we wish you a pleasant stay!
Address details
Post:

Flonk Hotel Groningen Zuid

PO BOX 11017 9700 CB Groningen

Visiting address

Laan Corpus den Hoorn 300

9728 JT Groningen
Air-conditioning
Not all rooms in our hotel have air-conditioning. Based on availability, you can borrow a fan at the reception free of charge or you can upgrade your room to an Executive room with air conditioning for a fee.
For more information, please contact reception.
Postcards
In the lobby near reception, postcards of Groningen and the area are available for sale. You can also have them stamped and sent.
Cot
A cot can be added upon your request for € 10,- per night.
Bathrobes
Bathrobes are available from reception, subject to availability.
Luggage
We provide the option for you to leave your luggage with reception for the entire day.
Luggage assistance
Luggage assistanceWe would be pleased to assist you with moving your luggage to and from the room. Please contact reception any time of the day.
Cash machine / ATM
The nearest cash machine is near Albert Heijn at B.S.F. Von Suttnerstraat in Groningen.
Bar
In restaurant "Meerwold" you can fi nd our cosy bar and can be found on the ground floor. If you want to have a drink, snack or a bite to eat, our bar is open every day.
Payment
We accept cash, debit-card payments and a number of credit cards (Amex, Visa and MasterCard).
Attractions
Reception has cycle routes and some leaflets about the most popular attractions. At Grote Markt in the centre of Groningen there is a tourist information office with comprehensive information and more cycle routes.
Fire / fire alarm
Please take the following measures in the event of a fire:
– Follow the instructions of the duty receptionist.
– Sound the alarm by activating a fire call point or warning reception.
– Close all the doors and windows.
– Do not use the lifts.
– Leave the hotel as soon as possible via the emergency exits.
Fire extinguishers
Every floor has fire extinguishers.
Emergencies
In the event of an emergency, please call reception on number 8000. In serious cases, please contact the national emergency service directly on 112.
Check-in / check-out times
You can book a late check-out with reception, subject to availability and an additional charge.
Check in:

Daily from 16:00 hours

Check out:

Daily to 11:00 hours
Computer
If you wish to have something printed or copied, please ask reception.
Doctor / dispensing chemist
If you need medical assistance, reception will call the duty doctor/dentist/dispensing chemist. In the event of an emergency, please call the national emergency service direct on 112 (call 0112 from the hotel room) Subsequently inform reception of your emergency as soon as possible.
Vending machine
On the ground fl oor between the lifts, there is vending machine with drinks and sweets. Reception can help you with the required change.
First Aid
A fi rst-aid kit is available from reception. Reception also has an AED.
Electricity
The hotel has 220 volt. An adapter and/or universal plug is available from reception.
Cycle and walking routes
For cycle and walking routes, please contact reception. We offer routes of various lengths, routes with numbered junctions and routes around lake Hoornsemeer. If you have a route, you can ask reception to print it out. New routes are always welcome!
Bicycle sheds
You can park your own bike in the bicycle shed at the back of the building. where you can also find our bikes for hire. he bicycle shed is covered, but not secured.
Bicycle hire
You can hire a bike during your stay. We have a range of bikes, including city bikes and e-bikes. For options and prices, please contact reception. All bike hire is on the basis of availability.
Guest satisfaction
Within Flonk Hotels Groningen we strive for continuous improvement of our service and quality. We would be grateful to hear your opinion of your stay at www.tripadvisor.nl
Green choice
If you stay more than 1 night, you can ask us not to clean your room. You help us to make the world a bit greener. Hang the hanger on the door of your roomdoor before 5.00 a.m. and your room will not be cleaned. As a thank you for this, you can pick up a voucher on the same day at the reception of € 5.00 to spend at WakaWaka.
Green Key
The Green Key is the international quality mark for businesses in
the tourism/recreation sector and for meeting and conference locations that work in a serious and verifi able manner on sustainability, Corporate Social Responsibility,
and environmental care.
House rules
It is not allowed to stay with more people in the room than the number of beds in the room.
Delivery services that deliver food, drinks and other consumptions are not allowed in the hotel.
Internet
You can make free use of wifi throughout the hotel. You can log into the wifi name Flonk Hotel. The wifi password is on your keycard folder. For more information, please contact reception.
Complaints and / or comments
If you have a complaint, please tell us. If you are satisfied, please tell others!
Safe
All hotel rooms have a safe where you can leave your valuable items. Management does not accept any liability for money and valuable objects in the room.
Coffee / tea
There are coffee and tea facilities in your room.
Copy
If you wish to have something printed or copied, please ask reception.
Charge posts
For electric vehicles, we have parking spaces with charging stations. These parking spaces are opposite the main entrance on the roundabout.
Reading table
The reading table in the lounge has today's papers. Various other magazines are available in the seating areas in the lobby.
Linen
Pillows, duvets and towels are available from reception on request.
Lunch / breakfast pack
You can order a lunch or breakfast pack from reception. For more information and prices, please contact reception.
Environment
Flonk Hotel Groningen Zuid has the Green Key certifi cation and achieved the gold status. This means we do our utmost to have the least possible impact on the environment. We would ask you to assist us in our endeavours. Help by switching off the lights, television and the air-conditioning when you leave the room. Please reuse the towels if they are not dirty.
Mineral water
Mineral water is available from our hotel employees or from the vending machine 24 hours a day. You can drink the tap water.
Sewing kit
Available from reception.
Night reception
There is a night porter from 23.00 hours to 7.00 hours.
Emergency
In the event of an emergency, please call reception immediately. You can contact reception on number 8000.
Do not disturb
The 'do not disturb' card is on the desk or on the door.
Breakfast
If you would like breakfast in bed (available after 8.00 hours), please call 8000. We do charge € 10,- room service costs.
Mondays to Fridays:

6:30 – 10:00 hours

Saturdays-Sundays:

7.00 – 10.30 hours
Public transport
Current times and prices are available at www.9292.nl or www.ns.nl. Our employees will be pleased to assist.
Bus:

At the D.D. Eisenhowerstraat bus stop you can catch a bus to the central railway station/city centre.

Train:

From Hoofdstation Groningen you can travel by train.
Post
If you wish to send post, please hand it in to reception. They will have it stamped too. You can ask reception for paper and envelopes.
Windows
The windows in your room can be opened electrically with a switch on the wall above the bed (window side). Hold the button down for a few seconds to open the window. For safety reasons, the window only opens a few centimetres.
Reception
Reception is staffed 24 hours a day. Our employees will be pleased to assist.
Restaurant Meerwold
Restaurant "Meerwold" is located on the ground floor for breakfast, lunch or dinner. The kitchen of the restaurant is open from 6:30 AM to 9:00 PM, reservation is required. The bar in the restaurant closes at 12:00 AM at the latest. Ask the service or reception of you want to order after 9 p.m.
Smoking policy
The entire hotel is non-smoking! It is forbidden to smoke in the rooms or elsewhere in the building. If you have been smoking, you must pay a smokingfine of € 250.00 and leave the hotel. Smoking is only permitted outside in the designated places.
Room service
Room service is available from 8.00 hours to 22.00 hours (on Sundays to 21.00 hours) and subject to a charge of € 10,-. If you wish to order room service, please call reception on number 8000.
Shuttle service
During the weekend (Friday, Saturday) we offer a free shuttle service. The shuttle runs 3 times per hour to and from Groningen Central Station.
For more information, reservation, and availability, please contact the reception. The times are:
Friday:

4 pm - 9 pm

Saturday:

11 am - 9 pm

Sunday:

10 am - 12.30 pm
Keycard
A second keycard for your hotel room is available on request if you would like to have electricity in your room whilst you are out. For more information, please contact the reception
Faults
If you observe any faults or defects in your room, please inform reception. They will make sure that the problem is solved as soon as possible.
Ironing board / iron
You can borrow an iron and ironing board from reception, subject to availability.
Taxi
Our reception staff will be pleased to book you a taxi. If you book your own taxi, please give a room number or telephone number so we can contact you.
Telephone
You can contact reception on number 8000 if you have any questions or require information. For an outside line, please dial 0 first. To call another hotel room, dial 1 and then leave out the first 0 of the room number (for example room 2015 = 1215).
Temperature
You can set the temperature yourself in the room by the control panel on the wall at the window side. The basic temperature in the room is 21 degrees. Cooling or heating the room is only possible when the windows are closed.
Terrace
On our non-smoking terrace by the water you can enjoy a snack and a drink and enjoy the view.
Toiletries
Various toiletries are available free of charge from reception.
Tourist information
For more information about the region, restaurants or attractions, please contact reception.
Loss / theft
Flonk Hotel Groningen Zuid does not accept any liability for loss and/or theft of personal property
Dry-cleaning / laundry
You can drop off steam and / or laundry at the reception before 8.00 am (Monday-Friday) in the designated laundry bag, with a completed laundry list with name and room number. he laundry bag and laundry list can be found in the wardrobe. The laundry can be picked up the same day at the reception. Steam goods are returned within 48 hours, with the exception in weekends. For more information, please contact the reception
Wake-up call
For a wake-up call, please contact reception.
Swimming pool
The hotel has a heated indoor pool, which you can use free of charge as a guest. As our swimming pool is also used by a swimming school, there are specific opening hours. Please check reception for the current opening hours.
Hospital
It is five minutes by car from the hotel to the hospital.
Address:

Martini Hospital Groningen

Van Swietenplein 1, 9728 NT Groningen
Sign up as a Flonk Friend and receive
€7.50 discount
Thank you for signing up. Use code
FLONKFRIEND

when booking.
Cancellation free of charge until 6 p.m. on day of arrival
Free room upgrade when possible
€2 discount on breakfast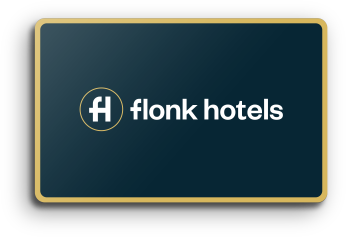 Discount
on your stay?
Subscribe to our newsletter and receive €7.50 discount.
Receive discount